Happy Street contest – Zany Situation
// September 29th, 2012 // Happy Street
We are starting today a contest of unusual and zany situations in the game Happy Street. We will be offering more than 400 flooz to the winners.
The rule is simple, take a screenshot of Happy Street showing your villagers in an unusual situation and join a caption which help understand the situation.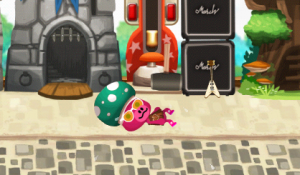 I love sunbathing
We will post the 5 most zany and funny screenshots with their caption on our website and facebook.
The winner of the contest will win 200 flooz
– The 2nd: 100 flooz
– The 3rd: 50 flooz
– The 4th: 40 flooz
– And the 5th position: 30 flooz
Send your screenshot and your caption at contest@godzilab-games.com with the subject : "Happy Street Zany situation: <your username in the game or your gamecenter nickname>"
The contest will end Friday october 5th at midnight. Only one entry is authorized by person.
Good luck,